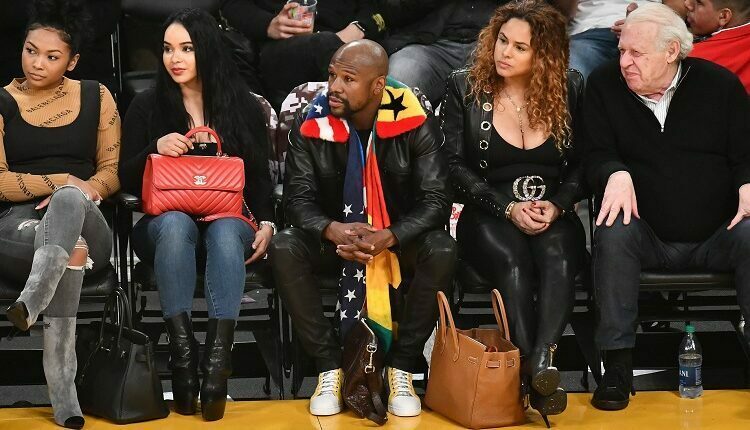 50 Cent Reignites Floyd Mayweather Feud By Mocking His Knee-High Boots!
It sounds like these two men are not planning on ending their beef anytime soon! That being said, earlier today, 50 Cent decided to reignite his feud with Floyd Mayweather by dissing his choice in footwear – sort of!
The edited picture that 50 posted on his Instagram account, showed the boxing champion in a pair of burgundy knee-high boots while in the ring and it seems like the rapper found that mock-up hilarious!
'Champ be like what, these boots cost 8k. LOL #brandsoncognac. #lecheminduroi,' 50 wrote in the caption.
As you may know, the second hashtag refers to his champagne brand Le Chemin du Roi.
The feud between the former best friends is longstanding actually, so no one was really surprised by 50 Cent's diss.
In fact, just two days prior, the rapper also shared The Shade Room's IG post that compared Floyd's burgundy leather jacket, black pants and burgundy boots outfit to one Mary J. Blige has also worn before!
'TSRBruhStoleMyLook. Speaking of looks! Who hit this burgundy jacket and boots to match look harder?! #MaryJBlige or #FloydMayweather?!' the Instagram page admin asked.
50 made sure to drag his nemesis again, saying: 'I think Mary rocked this better, Champ look like a f***ing jockey. Lol.'
No matter how petty this may seem at this point, it is safe to say that 50 Cent's fans usually enjoy him being so savage and funny when slamming Floyd.
In response to his comment, one follower wrote: 'Never really cared for Floyd…so keep the memes coming. Lmao!' while another appreciated the comedy in his disses, saying: 'I swear @50cent ur a mess. Gotta love your sense of humor… lol.'